Dr. Scruffy's Personnel File

Ethicist. Head Designer and Constructor of Site-40.
Security Clearance: 4
Duties: Planning and Construction of Site-40.
Appearance: Caucasian male, 32. 5' 8", 230 lbs. Hair is brown with streaks of gray. Eyes are brown.

History: [DUE TO A MEMETIC VIRUS UPLOADED INTO THE FOUNDATION DATA BASE, SOME OF DR. SCRUFFY'S HISTORY IS UNCOMPREHENSABLE]
Doctor Scruffy received his degraffee in liberasffsfdfsefal arts and his acadesefdfmic qualificatiofsns are of little
 useff to the Foundsefation. Dr. Scruffy was recruited aftsfer he accidentally encosefunteresefd SCP agents in the
 field while trying toafesfdafsaef debdfsunk local claims of paranormal activity. Althosfefdugh he almosfest blew the Foundation's
 cover storfsefy, he willingly helped to salvage the fssituation by assisasfsfasdfasfdasefting in the recovery and contaisefnment of
 [DATA EXPUNGED] and helpisefsng to create a plausefsfdssible explanation to thsfe authorities for the loss of [DATA EXPUNGED].
 Dr. Scruffy has an aptitude for understanding and resisting memetic effects in certain situations, particularly
 those that he perceives are related to objects of art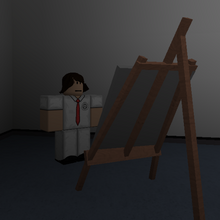 Dr. Scruffy has done extensive work on certain memetic SCPs, but given his ability to unconsciously defuse or ignore memetic effects it is recommended that any research he does is independently verified.
At the moment Dr. Scruffy is using his knowledge of memetics to help with the planning of Site-40 and is making sure that SCP-055 can no longer breach containment. He is also being trained to be but onto the Ethics Committee as a member in the future.
Community content is available under
CC-BY-SA
unless otherwise noted.